Avon C. Coffman, DO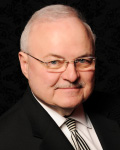 Dr. Avon (Curt) Coffman, DO, joined Midwest Medical Specialists in July, 1995, when he and Dr. Koranda merged their practices into what is now Midwest Medical Specialists. He recently retired from Midwest Medical Specialists in March of 2017 to enjoy time with his family, especially his grandchildren. His patients are now being seen by our other ENT physicians in our practice.
Dr. Coffman retired from the Kansas Army National Guard, with the rank of Colonel. He served as the commander of the medical unit for the Kansas Army National Guard, and then moved to the position of the State Surgeon for the state of Kansas, until his retirement. Dr. Coffman served two tours in Iraq in three separate combat support hospitals during his tenure with the Kansas Army National Guard.
Education
American Board of Otolaryngology
American Osteopathic Board of Otorhinolaryngology
Kansas City University of Medicine and Biosciences, Kansas City, Missouri
Internship/Residency
Rotating Internship – USAF Hospital, Scott Air Force Base, IL
Residency – Otolaryngology/Head and Neck Surgery at Walter Reed Army Medical Center, Washington D.C.
Clinical Interests
Diagnosis and treatment of snoring and sleep apnea disorders, including interpretation of sleep studies.
Evaluation and treatment of head and neck soft tissue disorders, both benign and malignant.
General ear, nose and throat disorders, including hearing, voice and balance disorders.