Deborah B. Ohlhausen, MD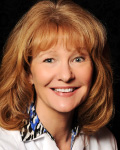 Deborah B. Ohlhausen, MD, joined our staff in 1999. Upon completion of her training, Dr. Ohlhausen and her husband, Dr. Ward Ohlhausen, moved to his hometown, Kansas City. They currently live in Liberty, Missouri with their two sons. Her husband practices OB-Gyn with Northland Obstetrics and Gynecology.
All of the Ohlhausens enjoy tennis, snow skiing and traveling together. Dr. Ohlhausen is involved with the Liberty Giving Circle women's philanthropic group, which was founded in 2006. She also serves on the Liberty School District Foundation Board of Directors.
Education
American Board of Dermatology
University of Missouri, Columbia, Missouri
Internship/Residency
Internship – University of Arkansas, Internal Medicine
Residency – University of Iowa, Dermatology
Clinical Interests
General dermatology for adolescents and adults
Minimally invasive cosmetic dermatology including BOTOX® Cosmetic
Skin cancer detection, prevention and treatment
Office