Javier Cremer, DO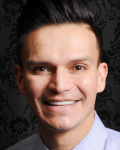 Dr. Javier Cremer joined Midwest Medical Specialists in January 2018. He was born in San Jose, Costa Rica and moved to the United States with his family when he was 7 years old. As the child of missionaries, Dr. Cremer learned the importance of compassion, servanthood and empowerment from an early age. He graduated from Oklahoma State University with a dual degree in Biochemistry and Molecular Biology and Spanish and completed medical school at Oklahoma State University Center for Health Sciences in Tulsa, Oklahoma.
After medical school, Dr. Cremer completed a five-year residency program in Otolaryngology and Facial Plastic Surgery at Des Peres Hospital in St. Louis, Missouri where he was chief resident. As someone who finds value in both the art and science of medicine, Dr. Cremer then embarked upon an additional one-year general cosmetic surgery fellowship through the American Academy of Cosmetic Surgery at Southern Surgical Arts in Chattanooga, Tennessee. During his fellowship, he primarily focused on facial enhancement and rejuvenation techniques. He is committed to helping his patients achieve improved health and quality of life.
In his spare time, Dr. Cremer enjoys traveling, running and spending time with his wife and two young children.
Dr. Cremer is fluent in Spanish.
Education
Undergraduate: Oklahoma State University, Stillwater, Oklahoma
Medical School: Oklahoma State University Center for Health Sciences, Tulsa, Oklahoma
Internship/Residency
Residency: Otolaryngology and Facial Plastic Surgery, Des Peres Hospital, St. Louis, MO
Fellowship: General Cosmetic Surgery, Southern Surgical Arts, Chattanooga, TN
Clinical Interests
Dr. Cremer focuses on the diagnosis and treatment of a wide variety of general and pediatric ENT disorders, including nasal obstruction, chronic sinusitis, allergic rhinitis, chronic tonsillitis and otitis media, thyroid and parathyroid disorders, obstructive sleep apnea, head and neck tumors, hearing loss and balance disorders.