Midwest Medical Specialists Holiday Hours
Midwest Medical Specialists will be closed on the following dates to celebrate the holidays with family and friends:
Thursday, November 25, 2021
Friday, November 26, 2021
Friday, December 24, 2021
Friday, December 31, 2021
We hope that you have a wonderful holiday season!
Happy Halloween from Midwest Medical Specialists!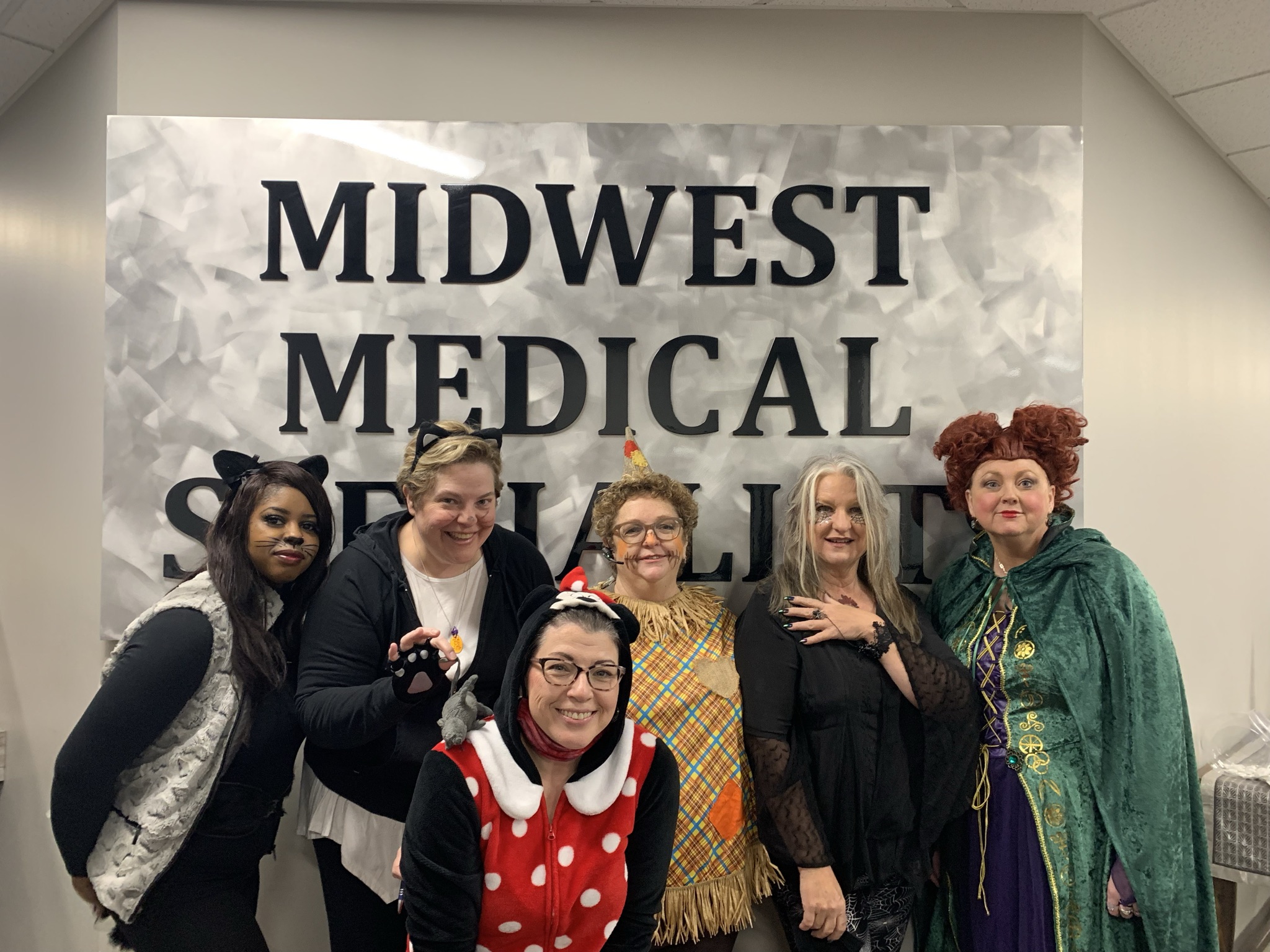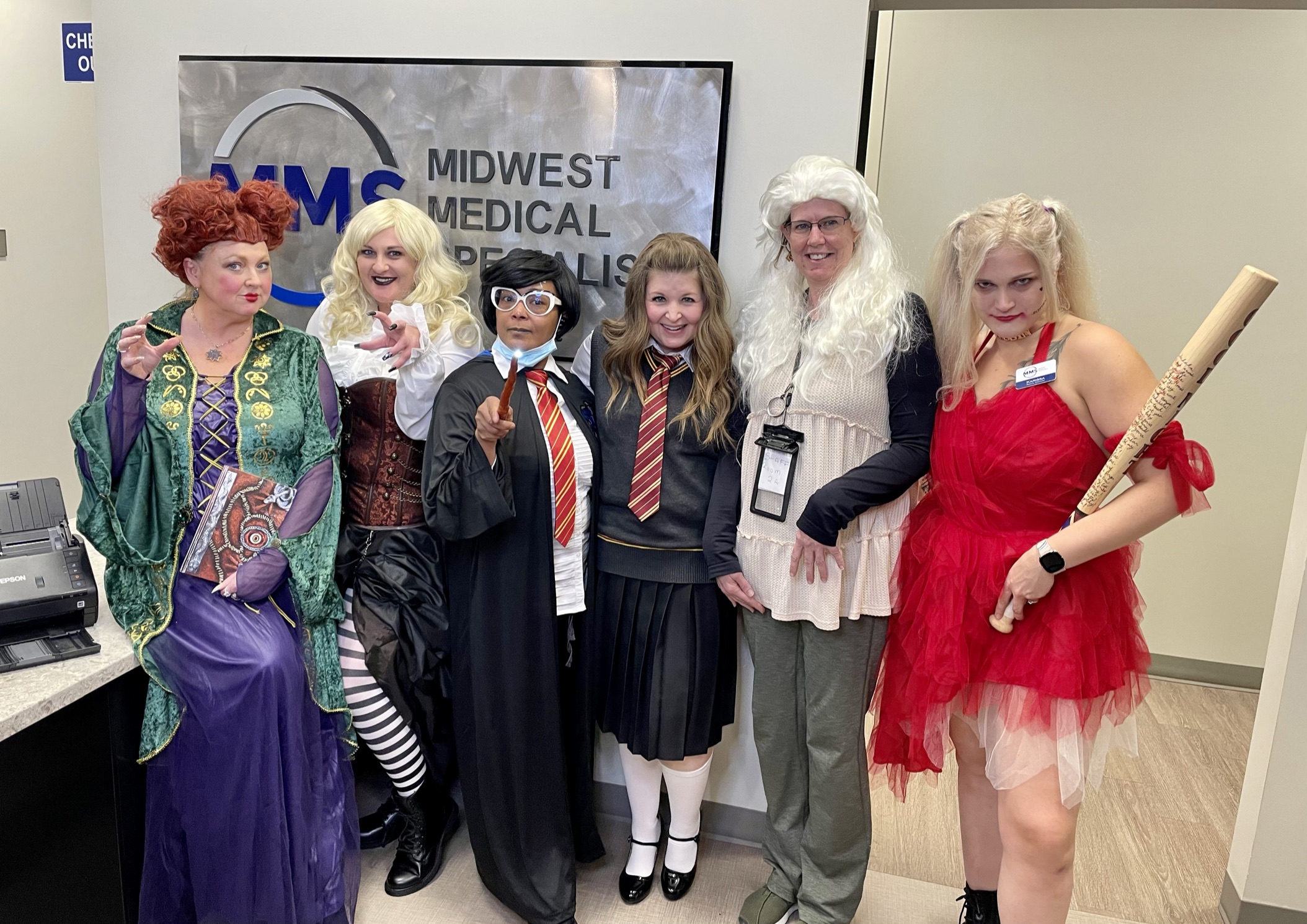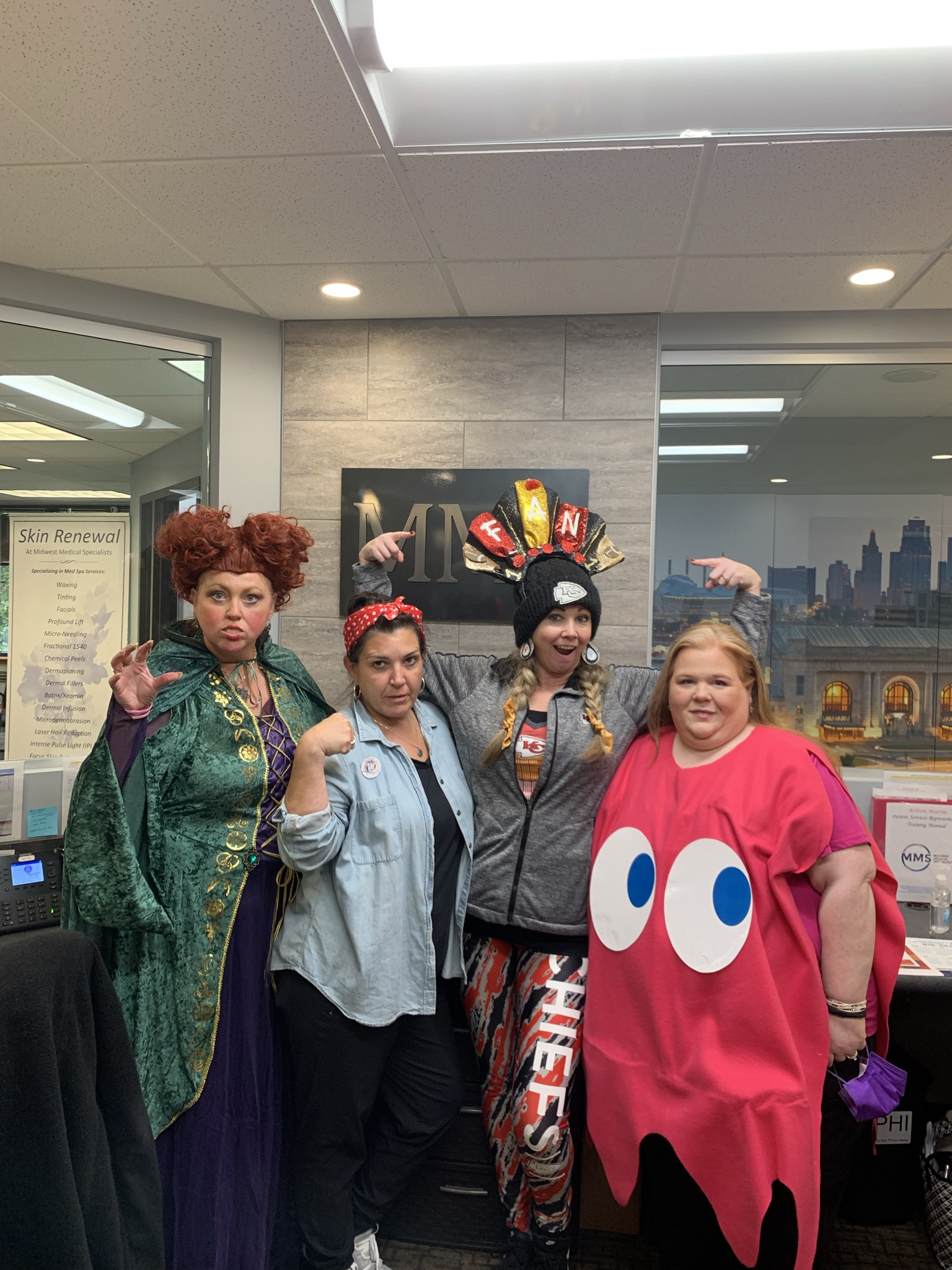 MMS Employees Attend KC Royals Game!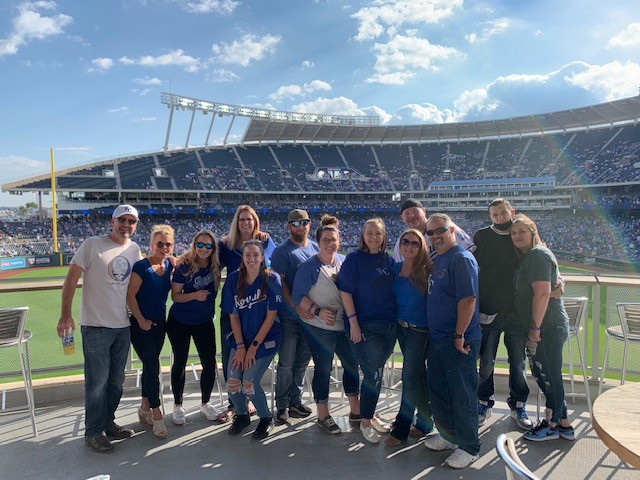 Welcome our new ENT Physician Assistant - Leila Miller, PA-C!
We are excited to announce that Leila Miller, PA-C is joining Midwest Medical Specialists on July 26, 2021. Leila will be working with our ENT physicians. Leila has been working as an otolaryngolgist Physician Assistant for the past 10 years and brings a wealth of knowledge to our patients and our team. She also has 3 years of cosmetic and medical dermatology experience. This unique skill set offers her the ability to take a comprehensive approach to the aesthetic care of her patients. Leila will be seeing patients at the Merriam location for all of your ENT needs. We are extremely excited to welcome her to our team!
Effective July 16, 2021, Stacey Schultz, PA-C is no longer with Midwest Medical Specialists. We apologize for any inconvenience this may cause as we reschedule her patients. Our other providers, including our 4 Dermatology Physician Assistants and 3 Dermatology Board Certified Physicians, will be caring for her patients and are more than happy to assist during this transition. Please contact our office at 816-454-0666 with any questions.
Dr. Reisz Voted Best of The Northland!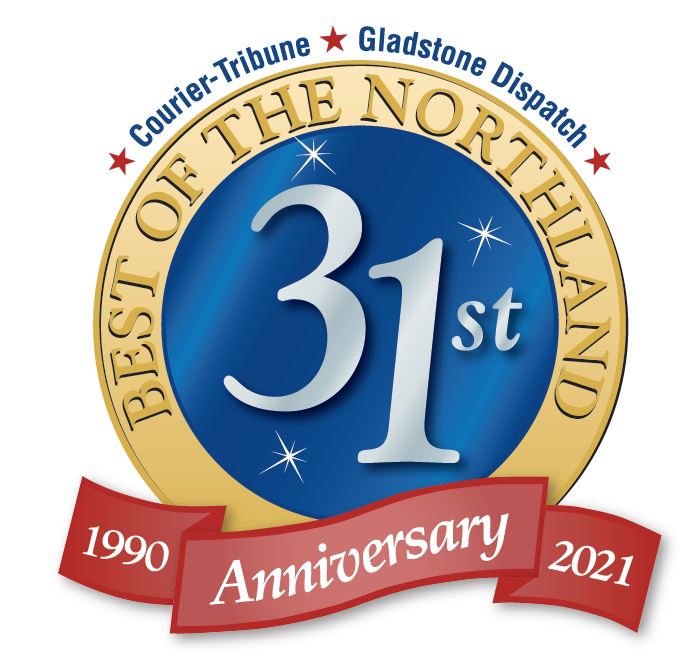 Congratulations to Dr. Reisz on being voted as one of the top Dermatologists of the Northland by her patients! We are extremely proud of her!
Merriam Med Spa Now Open!
Our Med Spa located inside of our Merriam office location is now open! Our aesthetician, Anna Pickett, is available to assist you with all of your aesthetic needs on Tuesdays and Wednesdays. Anna is available for Diamond Glow treatments, Fire and Ice Facials, chemical peels, facials, waxing, microderm treatments, dermaplaning, and other services. She also has an array of products available for purchase for your skin care needs. Please stop by or call 913-831-4880 to schedule an appointment.
Holiday Hours
Our office will be closed December 24th and December 25th for Christmas and January 1st for New Year's Day to spend time with our families. We wish you a wonderful and healthy holiday season!
Updated Coronovirus Policies 3-17-2020
In order to protect you, our staff and the community, please note that our office policies have changed to address the most current recommendations in dealing with the coronavirus.
If you have a fever, cough or feel sick, please cancel your appointment and notify your primary care physician.
If possible, please do not bring any guests to your appointment. All guests should remain in a car in the parking lot when possible.
If you have recently traveled internationally or to a domestic high-risk area, we ask that you reschedule your appointment.
Staff will be closely monitored and will not be allowed to work if they experience any symptoms.
We will attempt to limit the number of people that you encounter during your visit. All surfaces will be sanitized. We will be washing our hands as well as wearing protective equipment as needed.
New Location and New Hours!
We have officially moved to our new location in Merriam, Kansas located on the Adventist Campus. Our new address is 7450 Kessler Lane, Suite 130, Merriam, Kansas 66204.
Our providers and staff are available for all of your ENT, dermatology, audiology and Skin Renewal needs.
We have added extended hours at this location for your dermatology needs. Appointments are now available from 12pm to 7pm on Tuesdays.
Please call 816-454-2655 to schedule an appointment today. We look forward to participating in your healthcare needs!
Our Merriam Location is Moving in January of 2020!!!
We have exciting news to share!
Our Merriam location, currently in the Georgetown building, is relocating in January of 2020! We will be relocating just a few buildings away to the brand new Gateway building located at the far west end of the Adventist campus, or the corner of I-35 and 75th Street. The new office will remain convientenly located on the Adventist campus so our patients will not be driving any further distance. Our new address will be 7450 Kessler Lane, Suite 130, Merriam, KS 66204.
We are extremely excited about this new office space and all of the updates that we will be bringing to our patients. As the date gets closer we will keep you updated to the progress of our relocation! We will be offering all of our services at this location including ENT, dermatology, audiology and skin renewal services. Be sure to ask us about the new office!
New Services Now Offered at Our Liberty Location!
Our newest Aesthetician, Alecia Smith, is now seeing patients at our Liberty Office location! She is available to see patients on Thursdays for some of our Skin Renewal services. Alecia will be performing microdermabrasions, Keratin lash infusion, microneedling, peels, waxing, tint, customized facials and skin care consultations. If you would like to schedule your appointment with Alecia in our Liberty office please call (913) 831-4880.
Skin Renewal at Midwest Medical Specialists Ladies Night at Belvoir Winery!
Our Aesthetician team with Skin Renewal at MMS will be at the Ladies Night at Belvoir Winery event on Thursday, February 28th from 5:30pm to 8:30pm. We would love for you to come see us and shop all of the amazing vendors! We will be showcasing our February and March specials which include our spectacular new lip plumper and our eye creams! We will also be starting our fantastic buy more, save more sunscreen sale!! Be sure to stock up now! Spring break and summer are right around the corner!!!! But remember, you should protect your skin all of the time! Don't ever run out! We will also highlight our Jane Iredale cosmetics at 25% off retail price! Be sure to come out to the special event to say hello and save!
Ladies Night at Belvoir Winery
Midwest Medical Specialists is a proud sponsor of the Kansas City Comets!
We have partnered with the Kansas City Comets, Kansas City's own Major Arena Soccer League team as an official sponsor. Come out to the Silverstein Eye Center Arena and watch our favorite indoor soccer team take on the competition!
Skin Renewal will be at Holiday Boutique!
We are excited to share with everyone that Skin Renewal at MMS will have a booth at Holiday Boutique at the Overland Park Convention Center on November 15 - November 18! Make plans now to come out and visit our booth for special savings, product demonstrations, and to register for our giveaways! Buy your tickets now and save! We hope to see you there!
Save $3 on Your Holiday Boutique Tickets Now!

Welcome Our New Providers!
Midwest Medical Specialists is excited to announce the addition of two new providers to our practice.
Joining our Audiology Department is Dr. Katie Palmietto. Dr. Palmietto will be seeing patients for a variety of hearing related needs including hearing testing, VNG, hearing aid exams, sales and repairs. Dr. Palmietto is currently scheduling patients at our Merriam location.
Joining our Dermatology Deparmtent as the newest Physician Assistant, is Nicholas Maxwell, PA-C. Nicholas will be seeing patients for a variety of dermatological needs including rashes, acne, skin checks and moles. Nicholas will be scheduling patients at our two Northland locations, Liberty and Creekwood.
We are very pleased to have both of these providers join our practice! Please call our office at (816) 454-0666 to schedule an appointment to see one of them today!
Midwest Medical Specialists Welcomes Dr. Javier Cremer
We are pleased to announce the addition of Javier Cremer, D.O. as an Otolaryngologist to Midwest Medical Specialists. Dr. Cremer joined us January 1, 2018, and is available to see patients at our North Oak location and our Merriam location. We are extremely excited to have Dr. Cremer join our ENT physicians, Dr. Christensen and Dr. Hendricks. Please call our office at (816) 454-0666 to schedule an appointment.
Midwest Medical Specialists at Prom
On May 27, 2016 Midwest Medical Specialists went to the Prom with 96.5 the Buzz. Staff attended the event to showcase our new PicoSure Tattoo Laser Removal services that are available. It was a fun evening filled with temporary tattoos, lots of laughter, good music and education. Listen for our ads with Jeriney on 96.5 the Buzz for PicoSure Tattoo Removal.
Outpacing Melanoma 5K
The physicians and staff of Midwest Medical Specialists participated in the Outpacing Melanoma 5K on May 1, 2016 at Corporate Woods in Overland Park, KS. Midwest Medical Specialists was a sponsor of this amazing event again this year to help raise money for skin cancer research and bring awareness to melanoma. Remember to always protect your skin, wear your sunscreen and schedule your annual skin check. For more information or to support Outpacing Melanoma please visit www.outpacingmelanoma.org
PicoSure Tattoo Removal
Introducing PicoSure Tattoo Removal! Remove your unwanted tattoo in half the time with new picosecond technology! Ask us about our $99 introductory rate today!
PicoSure Focus Treatments
If you want to get rid of those unwanted acne scars, fine lines & wrinkles, and even brown spots with NO DOWNTIME a PicoSure Focus Treatment is perfect for you! Now available at MMS Dermatology and Skin Renewal!
Profound
Now offering a minimally invasive alternative to a face lift! Profound uses radio frequency waves to create new collagen, elastin AND Hyaluronic acid to smooth and tighten your skin. Say goodbye to those sagging jowls and double chin.

Call 913-831-4880 to schedule your consultation.