Medical Dermatology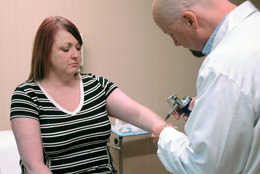 Dermatology focuses on the diagnosis, prevention and treatment of diseases affecting not just skin, but also hair, nails and mucous membranes. In light of this, we believe our patients are best served by adhering to this "whole body" approach to diagnosing and treating dermatological conditions.
While skin cancer evaluation, prevention and treatment is a key part of our dermatology services, we also focus on pediatric dermatology, teen acne, diseases affecting the scalp, disorders of nails and gums, psoriasis, allergic diseases of the skin, and aesthetic improvement of the aging face.
Some of the most common skin conditions we treat include:
Inflammatory conditions such as psoriasis, eczema, dermatitis, rosacea, seborrheic dermatitis, acne and allergic contact dermatitis.
Infections of the skin such as fungal infections (ringworm) of body, feet and nails, as well as common and rare bacterial, viral and parasitic infections of the skin and hair.
Benign skin growths such as warts, seborrheic keratoses (age spots), lentigines (sun spots), cysts, angiomas and skin tags.
Precancerous and cancerous skin growths including actinic keratoses (pre-cancers), basal cell skin cancer, squamous cell skin cancer and melanoma.
Surgical Dermatology
Some skin conditions require more than topical treatments or oral medication for relief or cure. This may include more invasive procedures for diagnosis and treatment. MMS dermatologists possess the expertise and the state-of-the-art equipment necessary for this level of care.
Cosmetic Dermatology
We are fortunate to live in a time when numerous procedures and treatments are available to heal and/or reduce the effects that aging, environment, illness, medication and lifestyle can have on our skin. Midwest Medical Specialists offers a variety of options, all of them administered by our physicians and certified aestheticians using state-of-the-art equipment.
Dermatology Services

Acne
Eczema
Psoriasis
Rosacea
Pediatric Dermatology
Skin Cancer Screening
Skin Cancer
Hair Loss



Surgical Dermatology

Mole and Cyst Removal
Photodynamic Therapy



Cosmetic Dermatology


Neurotoxin Treatements including BOTOX® Cosmetic and Xeomin
Dermal Fillers
Blu-U and Red Light Treatments
Fractional Laser Resurfacing
Intense Pulsed Light
Laser Hair Reduction
Vein Therapy
Chemical Peel
Hand Rejuvenation
Facial Skin Rejuvenation