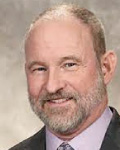 Dr. Eric C. Christensen, joined Midwest Medical Specialists in July of 1995. He grew up in Concordia, Kansas, where he spent his summer months working on a farm. While studying at Kansas State, he was awarded a foreign language scholarship, allowing him the opportunity to study at the Justus-Liebig University in Geissen, Germany. He has traveled extensively in Europe, and still maintains correspondence with acquaintances he made during years of studies overseas.
Education
American Board of Otolaryngology
University of Kansas, Kansas City, MO
Internship/Residency
Internship – General Surgery, 1989-90, University of Kansas, Wichita
Emergency Medicine Transition Year, 1990-91, Warrensburg, MO
Residency – ENT 1991-95, University of Kansas
Clinical Interests
Dr. Christensen focuses on the diagnosis and treatment of a wide variety of general and pediatric ENT disorders, including nasal obstruction, chronic sinusitis, allergic rhinitis, chronic tonsillitis and otitis media, thyroid disorders, obstructive sleep apnea, head and neck tumors, hearing loss and balance disorders.
Office