Nicholas Maxwell, PA-C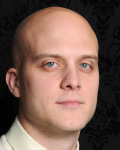 Nicholas Maxwell, PA-C joined Midwest Medical Specialists in October of 2018. Nicholas is a member of the American Academy of Physician Assistants and the Society of Dermatology Physician Assistants.
Outside of work, Nicholas likes to spend time with his wife and son as well as running, being outdoors, and watching the Chiefs and Royals play.
Education
Master of Physician Assistant Studies at Union College with distinction
Bachelor of Arts in Biology from Buena Vista University
Licensing/Certification
Board certified by the National Commission on Certification of Physician Assistants
Licensed to practice in Missouri
NOTE: A physician assistant is a health care professional trained in an intensive education program. PAs are licensed by the state or credentialed by a federal employer to practice medicine with the supervision of a physician. As part of their comprehensive responsibilities, PAs perform physical exams, diagnose conditions and illnesses, develop and carry out treatment plans, order and interpret lab tests, suture, assist in surgery, provide patient education, counsel on preventive health care and can prescribe medications in virtually all states. Supervising physicians work closely with their PAs to determine which patients and conditions they want them to treat. Close consultation between the physician, PA and patient is utilized for unusual or hard-to-manage patients. To remain nationally certified, PAs must complete 100 hours of continuing medical education every 2 years and must pass a national recertification examination every 6 years.