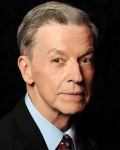 Chicago native, Frank Koranda, MD, is married to Diane, who shares his commitment to providing surgical care to people in countries who would not otherwise have access to it. Dr. Koranda serves as a medical director of a world outreach program and spends four to six weeks a year serving the program.
He is one of ten people in the world with a double specialty in dermatology and otolaryngology (ENT) – head and neck surgery. Dr. Koranda is also experienced in the Mohs micrographic surgery method for the targeted removal of skin cancer. He trained at the University of Wisconsin with Fredric Mohs, MD, the originator.
Dr. Koranda served in the U.S. Air Force as a flight surgeon, both here and overseas, and has received the Command Outstanding Flight Surgeon Award on two occasions. He has been commander of three units and a state air surgeon, and holds the rank of colonel.
Education
American Board of Otolaryngology
American Board of Dermatology
University of Illinois, Chicago, IL

Internship/Residency
Internship – The Ohio State University, General Surgery
Residency – University of Colorado, Dermatology
Residency – University of Kansas, Otolaryngology-Head and Neck Surgery
Fellowships
Fellowship – University of Colorado, Immunology
Fellowship – University of Wisconsin, Mohs Micrographic Surgery
Clinical Interests
Dr. Koranda sub-specialized in facial plastic and reconstructive surgery, including facial rejuvenation. He is a fellow of the American Academy of Facial Plastic and Reconstructive Surgery.
His practice also includes the treatment of skin cancer and melanoma, laser surgery, and nasal, sinus and thyroid problems.
Office
Dr. Koranda is available at the North Oak, Overland Park and Merriam offices.
Dr. Koranda's office hours vary per his numerous practice, surgical and outreach commitments. Please call Midwest Medical Specialists main appointment line at 816-454-2655 for his availability.