by Joseph B. Schneider DO May 17, 2022
I am often asked "Dr. Schneider, what is the best sunscreen?"
My short answer is, 'The one you don't mind putting on'.
Much like a treadmill, purchasing it is only the first step. You must use it appropriately and re-apply every few hours. If it stings or is bothersome, you are unlikely to use it appropriately. Generally speaking, I like the physical sunscreens better than the chemical type. Zinc oxide and titanium dioxide are the physical blockers. They sit on top of the skin and reflect the damaging ultraviolet (UV) rays. Most available physical sunscreens are now microencapsulated, meaning they do not look as white as the early versions of zinc oxide (like the stereotypical lifeguard of the 1970s). At dermatology offices, you can often find some that are tinted, so they blend in very well.
SPF of 15 will block out 94% of the suns harmful rays, SPF 30 get you to 97% and a 45+ is about the best you can get and maxes out at 98%. So don't be fooled into thinking 45 is 3x better than 15. The higher SPF, usually the greasier the product, so if you really hate the greasy feel, then go with the SPF 15 or 30.
The chemical sunscreens absorb the UV rays and convert them into heat, which then is dissipated into the world through the skin. They are effective, so why do we tend to steer clear of them? There is evidence that the chemical sunscreens get into the bloodstream, but it is not known if or what damage it may do to the body. Some chemical sunscreens can be very damaging to aquamarine life. In fact, some (Oxybezone and Octinixate) are now banned from sale in Hawaii. Even with the potential negatives of the chemical sunscreens, if that is all you have, use it. It is better than getting a sunburn. Just remember that sunscreen has a shelf life of less than a year after it is opened, so throw out last year's leftovers and buy new so you and your family are protected.
MMS Provider Spotlight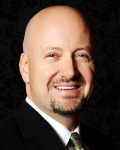 Dr. Schneider
Dr. Schneider has been in practice for 14 years. He practices Medical, Surgical and Cosmetic dermatology. His passion is treating people for skin cancer with the Mohs Micrographic surgery method. He has three children who are high school and college age, including a set of boy/girl twins. He enjoys many outdoor activities including motorcycling, boating and golfing.
My skincare regimen:
Age 49
Fitzpatrick skin type II
Sensitive skin
Combo oily/dry
Sun exposure history: High
Skin care routine:
Morning
Milky lotion cleanser (Epionce®)
Hydrating B5 Gel (Skinceuticals®)
Renewal light lotion (Epionce)
Evening
HA intensifier gel (Skinceuticals)
Eye cream (Dermatologists Select by Skin Renewal®)
Renewal night cream (Dermatologists Select by Skin Renewal)
OR Triple Lipid Restore 2:4:2 (SkinCeuticals) when very dry
Occasional
Lytic gel cleanser (Epionce) weekly – for exfoliation
SPF cream as needed. Antioxidant tinted mineral sunscreen 50 or Sheer total physical 30 (Dermatologist Select by Skin Renewal)
IPL to correct brown and red spots x3 sessions annually as needed
Diamond Glow (Hydrofacial) quarterly or as often as I can find time