by Nicholas Maxwell, PA-C August 2, 2022
One of the most common questions I am asked, "When should I be concerned about a spot?". This is a complex question without one simple answer; however, I try to alert my patients to clues their bodies are telling them. The three biggest players in skin cancer are Basal cell carcinoma (BCC), Squamous cell carcinoma (SCC), and Melanoma. Fortunately for most of these malignancies, treatment is straightforward, safe and effective...if we catch them early.
Typically, BCC and SCC will tune you into their unwanted presence. These types of skin cancers generally show up as raised or depressed bumps or sores that will never completely heal, and may periodically bleed from time to time with/without trauma. These are also going to change in size, shape and color. A good rule of thumb I tell my patients, "Any spot that is bleeding easily, not healing, or if you have a particular spot that is keeping you awake at night thinking about… come in and let me look at it". Either I'll let you know that it is nothing to worry about, or we can start treatment ASAP, which gives us better outcomes medically and cosmetically.
Melanoma, on the other hand, can be a different entity entirely. One of the best pearls I can pass along are the ABCD's of melanoma recognition:
Asymmetrical lesions – lesions when folded in half, are not mirror images of each other
Borders are notched or irregular – the borders of melanoma can be discrete or notched
Color – typically you think of deep, dark, black spots, but any lesion with 3 or more different colors together in the same spot is a clue
Diameter – greater than the head of a pencil eraser
Evolution – the biggest of these features is evolution or change. Any lesion that is changing in size, shape, color, behavior
Look for the "Ugly duckling" – any lesion that doesn't match anything else on your body
"So how can I look good if you're not going to let me in a tanning bed?" Easy. Spray tans, toners, or flaunt the skin you were given! Spray tans have come along way since the early 2000's, so if it's that golden bronze look you're going for – give them a try again. It's much better dealing with a little "orange palm" for a week than going under the knife for a wide local excision to remove a spot. One of my favorite items on the market now are self-tan drops. My wife uses Tan Luxe – The Body. It's as simple as adding a few drops of these solutions to your favorite moisturizers or lotions. Side by side, it's hard to tell the difference between a "natural tan" and these much safer alternatives. Or just like I mentioned earlier, rock the skin you were given! It's beautiful, it's natural, and it's you!
Lastly, we have learned a lot about the dangers of UV exposure, and I'd like to reiterate the importance of early detection. Believe me from personal experience, don't wait! I recommend everyone have a full body skin examination once a year, and then we can tailor your skin surveillance and maintenance program to fit your specific needs. You are not bothering me with just one spot. You are not silly for being in tune with your body. If something feels off, come see me and let's take care of you together!
MMS Provider Spotlight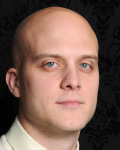 Nick Maxwell
Nick has been with Midwest Medical Specialists his entire career and enjoys all aspects of dermatology. In his free time, he loves chasing after his two sons (age 4 and 2) as well as running, grilling and watching the Chiefs.