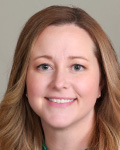 Madeline Lane is a Board Certified Nurse Practitioner though the American Academy of Nurse Practitioners.
She received her Bachelor of Science in Nursing from Washburn University in 2009. She worked inpatient on the Mother/Baby Unit and in the Neonatal Intensive Care Unit. She also worked with a Family Practice Group as a Float Nurse and Urgent Care Nurse/Nursing Manager. Madeline graduated with her Masters of Science in Nursing from Research College of Nursing in 2014.
She has previously worked in both Family Practice and Urgent Care for the past 7 years. She has developed a passion for dermatology, and comes to the practice with a great knowledge base in the field.
Madeline grew up in Florida, but has been in Kansas since high school. She enjoys spending time with her husband and two daughters, traveling, crochet, reading and watching the Kansas City Chiefs.